Submitted by Administrator on Mon, 09/04/2018 - 12:07
---
On 20 September 2017, a large delegation of business partners from Infinitus China visited the Cambridge Infinitus Research Centre (CIRCE).  The visitors included Infinitus CEO Lam Yu and the general manager of Product Development Department Jacky Hu.  In total there were ca 230 visitors in what turned out to be a very busy and stimulating event which included tours of the biology and laser laboratories at CIRCE and keynote lectures on research developments at CIRCE.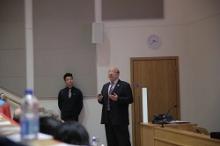 Professor Clemens Kaminski, Chief Scientist at CIRCE and Professor of Chemical Physics at CEB, opened with a historical overview of scientific discovery in Cambridge and then reviewed the vision and purpose of CIRCE as a world leading centre for research on bioactive peptides. He summarised the latest results which show exciting potential of lead compounds, to reduce oxidative stress and protein aggregation in cell models of neurodegeneration and ageing. Dr William Ma, Head of Science at Infinitus and co-chairman of CIRCE, briefed the delegates about the fundamental values on which the collaboration between Infinitus and the University of Cambridge is built how this initiative benefits both partners intellectually and culturally. Mr Jacky Hu, General Manager of Infinitus, then presented the overall vision of Infinitus and how co-operation with world leading institutions like Cambridge is vital in its strategy.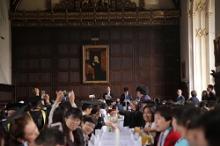 Later, the delegation took lunch in the old dining hall of St John's College and were addressed by Professor Richard Prager, Head of the School of Technology, with a toast to the future of the CIRCE collaboration.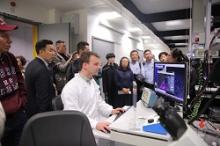 ​Students, PDRAs and technical staff at CEB did a wonderful job in supporting what turned out to be a logistically complex event and CIRCE directors Professors  Kaminski and  Tunnacliffe expressed their thanks for the extraordinary commitment of the many people who made the meeting the success it was.