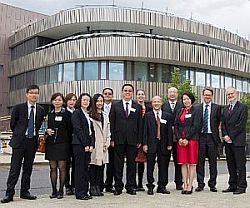 The Department of Chemical Engineering and Biotechnology received a £4 million research donation from Chinese health giant Infinitus which includes a contribution to the construction of the Department's new building in West Cambridge. The grant is in support of the new Cambridge Infinitus Research Centre (CIRCE) headed by Profs Clemens Kaminski and Alan Tunnacliffe.
CIRCE aims to analyse the biological activity of polypeptides and polysaccharides derived from plants and fungi. 25% of all modern medicines are derivatives of natural products and a major focus in CIRCE is  the study of molecular regulators of protein homeostasis in the treatment of protein misfolding diseases.
Professor Clemens Kaminski says: "I am absolutely thrilled to think of the opportunities that CIRCE brings to us and our department. Infinitus is a world leading biotechnology company and I have been greatly impressed with their vision and enthusiasm to drive this exciting new venture forward. The importance of learning from nature on how to design molecules that might combat disease is exemplified through the award of the Nobel prize in Medicine to Chinese researchers who discovered Artemisinin, a drug that is wholly derived from plants, and that constitutes the most effective we have against malaria."
CIRCE performs independent basic research on the molecular function of naturally derived compounds.  It does not endorse any commercial products, nor does it provide medical advice of any kind.